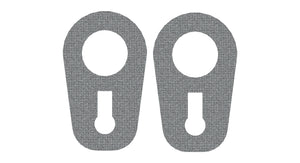 CONDUIT HANGERS : 1" CONDUIT TARGET HOLDER

FOR USE WITH 1" EMT CONDUIT 
Laser cutting our steel target holders allows us to manufacture parts that are stronger than other target holders made of lower quality steel or metals that cannot withstand multiple impacts over an extended period of time. You'll find that you are buying targets and target holders less often due to our superior manufacturing process and high-quality steel components.

Rated for:
Optional upgrades:
Choose to have your target powder coated for a ready to shoot experience!
Features:
Ships unpainted and without mounting hardware. 
Guaranteed high quality laser cut targets. DON'T SETTLE FOR THE CHEAPER PLASMA CUT.
We use the finest AR500 the market has to offer
All of our targets are made in AMERICA!
We offer the best prices and fast shipping on all orders. So, buy today to enjoy our great prices while supplies last