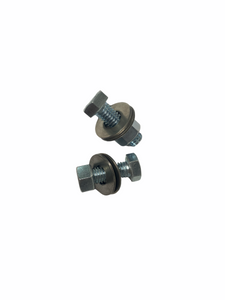 1/2" Steel Target Bolt Kits
Buy our ½" target mounting bolts to securely mount your steel targets to our target holders. These bolts are made from durable steel and designed to withstand the extreme impact that comes with high-impact target shooting. These target bolts can be used to mount a single static square or gong target or used for securing hanging targets to chains, as well (chains not included). Our high-grade target mounting bolts are the safest, most reliable ½" steel bolts on the market and come with lock nuts and washers.
Securing targets with bolts that are designed for target shooting allows you to spend more time on target practice and less time replacing and mounting targets. These bolts are preferred by experienced competitions shooters and avid outdoorsmen who rely on the best equipment in the field.
This kit comes with the hardware you need to mount 1
hanging style target
such as a gong or square (does not include
chain
).
Includes:
- 2 high strength GR8 bolts
- 4 washers
- 2 lock nuts