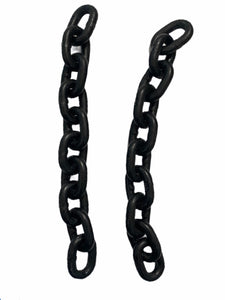 3/8" Chain for Hanging Targets – Grade 100

We sell the highest quality chains for hanging targets. Grade 100 chain is made from an extremely durable material that provides 25% more strength than grade 80 chains. Grade 100 chain is preferred for hanging targets due to its hardened construction and ability to withstand impacts from bullet splatter and multiple direct hits. Using grade 100 target hanging chains provides the reliability you need to stay safe when shooting steel targets. Our target chains have a thickness of 3/8".

Heavy duty chain for target hanging purposes.

One order comes with (2) 12" lengths.

Great for hanging our 3/8" targets.

We buy all of our target chains right here in the USA. We pride ourselves on providing high quality target chains at the most affordable prices. Buy today to enjoy our low prices.