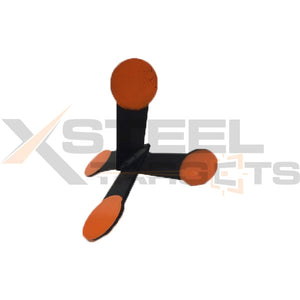 3/8" AR500 Steel Jumping Jax Reactive Target
Rated up to .308Win

3/8" AR500 Jumping Jax targets are designed for maximum entertainment with everybody involved. We use only the highest quality AR500 in combination with CNC laser cutting devices to minimize HAZ or heat affected zone as seen in cheaper plasma or torch cut targets. This ensures that the quality and integrity of our targets is preserved resulting in a longer life that will surpass the competitions! Best of all we are proudly made in America!
Target paddles are 2.5", Target stands 8" tall.
Small diameter paddles are challenging and fun to shoot.
Buy 2 and race them across the range with a friend.
Welded together and ready to shoot.