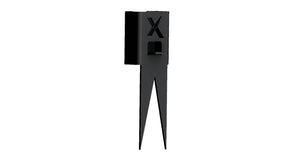 Steel Stake-N-Shoot Spiked Target Base
We manufacture the best stake-n-shoot target holders for our steel static targets. These target stakes attach to standard 2x4s, keeping them upright even after multiple impacts. Our stake and shoot target stand holders are made using durable steel and laser cut to maintain their strength and reduce the heat affected zone (HAZ). This makes our target shooting accessories the most reliable on the market. We use AR500 steel to make our target shooting stakes to ensure they are able to withstand thousands of impacts without compromising the integrity of the steel.
If you are looking for the best AR500 steel target stakes for sale, we are able to provide the most durable design, lowest prices and fast shipping on all orders, with orders over $250 shipping completely free. When you buy steel target stakes from our online store, you can be sure you are getting the highest quality steel target accessories on the market. Buy today and save!
This is for the base part only!
Includes:
Spike base with bottom 2x4 holder only- does not include top 2x4 target holder.
Easy to use system for the everyday shooter
To be used in conjunction with our
2x4 static target holder
- not included
Best in quality and performance along with quick set ups. This holder is a must have for the everyday shooter.
Works great static targets
Does not include target or 2x4 - Shown only for demonstrations purpose